Just wanted to share an old fave. A standard Greek Mediterranean joint. Solid hummus. Good portions. Chill atmosphere and a large cozy outdoor dining room.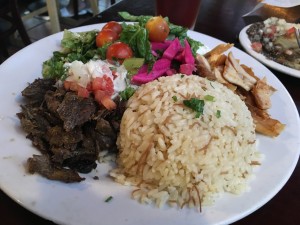 I got the Schwarma combo, marinated beef and chicken.
Lots of rice and a salad. As you can tell they don't hold back on rice on any of their plates.
I consider this location to be the flagship in the chain. Plus it's  always a safe bet for good Lebanese slash Mediterranean food.