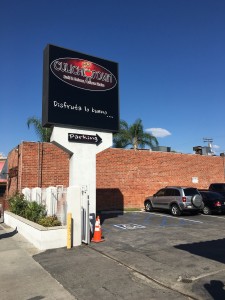 Checked out Culichi Town, a Mexican Sushi spot on the East side of LA with other locations outside of LA near Riverside and Pomona.
Very excited for the idea of Mexican Sushi.  In my mind, a blend of Japanese sushi and Mexican ingredients. Apparently Philadelphia Cream Cheese was made in Mexico because that shit was in every roll.
I mean most of the rolls had a little bit of fish, chopped up shrimp and crab with cream cheese wrap. Presentation was nice, but every roll was disappointing.
The Salmoncitto roll had promise of only I could taste the salmon over the cream cheese and spongy rice.
The Ceviche de Pescado was good though. Not the greatest but definitely not bad. It was good enough that I took the picture a while after we started eating it. I mean it was piled pretty high and the best deal for $6.99.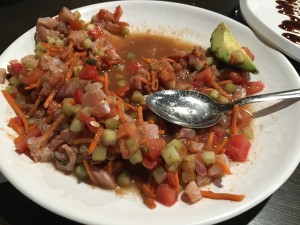 This spot is safer than its namesake in Sinaloa, Mexico but if you happen to be near one, play it safe and stick to the Mexican food.